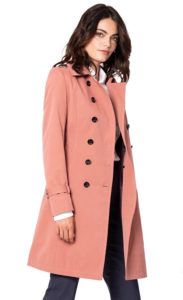 The Trench Coat was named after its use by British soldiers in the trenches during World War I. Renewed, the trench coat is among the strongest and most elegant trends for 2011. This coat, characterized by the double back, shoulder pads, double cufflinks and belt, was born from the prior invention of waterproof fabrics by Thomas Burberry and Aquascutum in the mid-19th century, with which military pieces were later made by civilian.
How to Choose a Trench Coat
Invest in a high quality trench coats that you can wear for a long time. Look for a removable hood in case you want to wear it in rain or snow.
For the first Trench Coat, choose a jacket that has classic double-buttoned lines, tailler collar, made of gabardine fabric, length 7/8, cuffs and waistband.
Determine the length that best suits your body type, the length below the knee and midi is suitable for tall and skier women, the shorter ones should opt for a knee length jacket or just above it.
Find a colour that will match your wardrobe. Consider neutral colours such as black, navy, beige, khaki, and dark green that are highly versatile to match everything. For the boldest, opt for a trench coat in vibrant colours like red, bright pink or even with animal prints.
The Trench coat is a wildcard that remains classic and current. For winter 2011 the garment is marked in detail in a new generation of jackets. Use with folded sleeves or strapped belts to transform and renew your wardrobe.
Beware of volumes in coats, they increase the shape and are a great option for skinny.
A new way to use Trench Coat:
Roll up sleeves and wear with plenty of accessory
Fold the front flaps of the jacket back and use a tied belt to hold
Wear with multiple necklaces or maxi necklaces
Contrasting colour belts vary the look
Break the rules and wear mid-length skirt trench coat letting the bar appear
A classic Burberry Trench Coat, for example, makes up a ladylike production when worn with evasian or godess skirts and dresses.
For a weekend look wear the married over shorts and denim T-shirt, complemented with a boho-style shoulder bag
Every woman has a basic black dress, wear the Trench coat with the classic dress to make a perfect match. Think of the glamorous looks of Hollywood, opt for a rather evasive cocktail dress and invest in sparkling accessories and a luxurious heel for a production for the night.
Related Posts