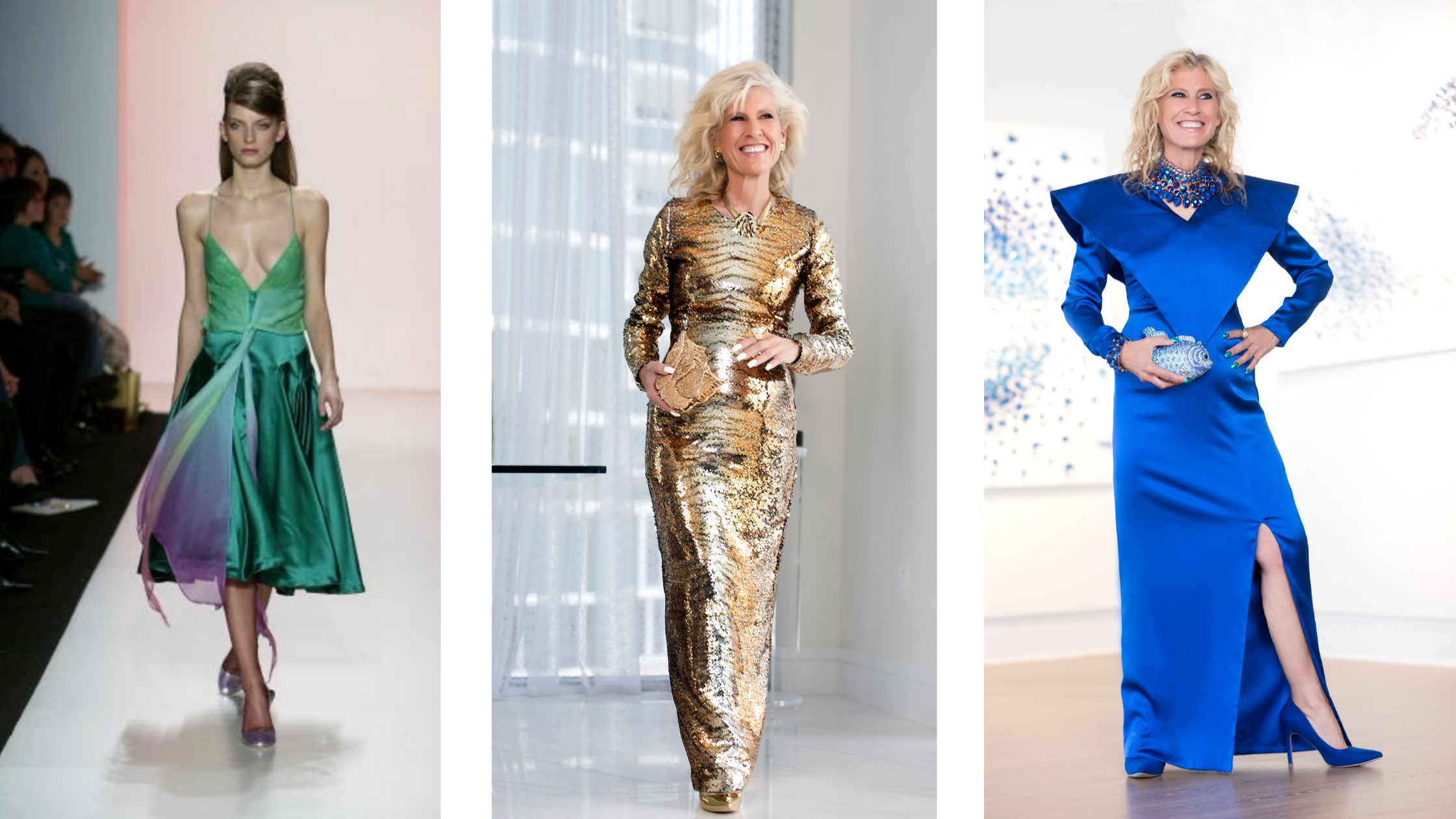 This season there will be fewer parties and more celebrations with immediate family.  Getting dressed up is what festive times of the year are all about.  Two top designers from Los Angeles and Miami share their thoughts on how to balance the current challenges while looking sophisticated during the holidays.
Donna Leah, founder of Donna Leah Designs, has always had a passion for creating glamorous gowns.  Her current mission is to help women discover discovering dressing up again.  For the designer, who is a graduate of the Fashion Institute of Technology (FIT) in New York and currently lives in Miami where her company is based, the holidays are a time to celebrate what we are grateful for and to lift our spirits.
Saverio Pisano is an Italian designer and tailor that is now based in Los Angeles.  He began his fashion training in Italy when he was five and a half years old and developed his talent in Paris and Milan. Later, he lived and worked in Argentina dressing first ladies, diplomats, and high society.  He is the author of a well-respected book on pattern making, The Tailoring Bible.
These two prominent designers share their thoughts on why dressing up is important this holiday in particular and how it can impact ourselves and those around us.
Donna Leah says that dressing up can be about the type of accessories you choose. "My passion is creating sophisticated evening gowns. But I also appreciate styles that are versatile and fit a mood.  You can dramatically change a look based on accessories and footwear."  The designer recommends that instead of purchasing something specific for certain events, try to have a few dressier pieces in your wardrobe that are more versatile, that you love, and that you feel great wearing. Donna Leah Designs' latest accessory are matching masks in the same fabrics as her gowns.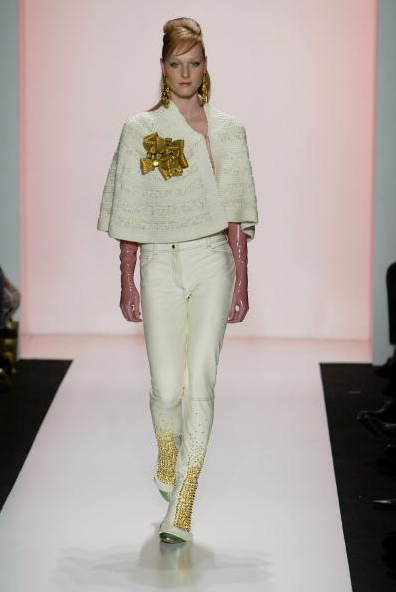 Men are embracing custom clothing more than ever, especially during festive occasions.  In uncertain times, especially now, people gravitate to custom clothing because the garments are universally flattering, comfortable, and make excellent investments.  Today's purchases are thoughtful and are meant to stand out, while being versatile and empowering.  When people love what they wear, it gives them a sense of empowerment and confidence. "At my studio custom apparel and requests for pattern making is reaching new heights of popularity now. Clients are rediscovering dressing up as they seek to purchase clothing that is unique, communicates their sense of self, are of high quality, and are meant to be worn over many years," says Pisano.
The number one reason to dress up for the holidays is that it will improve your mood. "We have all been feeling higher levels of stress lately and need to understand how important it is to take care of ourselves," explains Donna Leah.  She practices positive thinking daily to influence the outcome of the day and communicates how she is feeling by what she wears.  "Wearing bright colors in metallic fabrics makes me feel happy.  So, no matter what I will be doing during the holidays, feeling good and wearing what I love is part of my new tradition."  Donna Leah goes on to explain that now is a great time to experiment with new colors, fabrics, and styles. "It's also a great time to try out a new designer!"
Inspire others to be happy and celebrate by what you wear.  Family that live far away from each other are opting for virtual celebrations and it's a great time to get dressed up! Pisano says, "What we are now seeing is a new way for people to express how they are feeling through what they wear because the selections that they are making no longer fit into weekend and work.  It is a new time and place for both men and women. The holidays are a great way to continue that wardrobe transformation!"  He feels that when women and men make the effort to wear a properly tailored piece that it elevates the event – virtual or physical.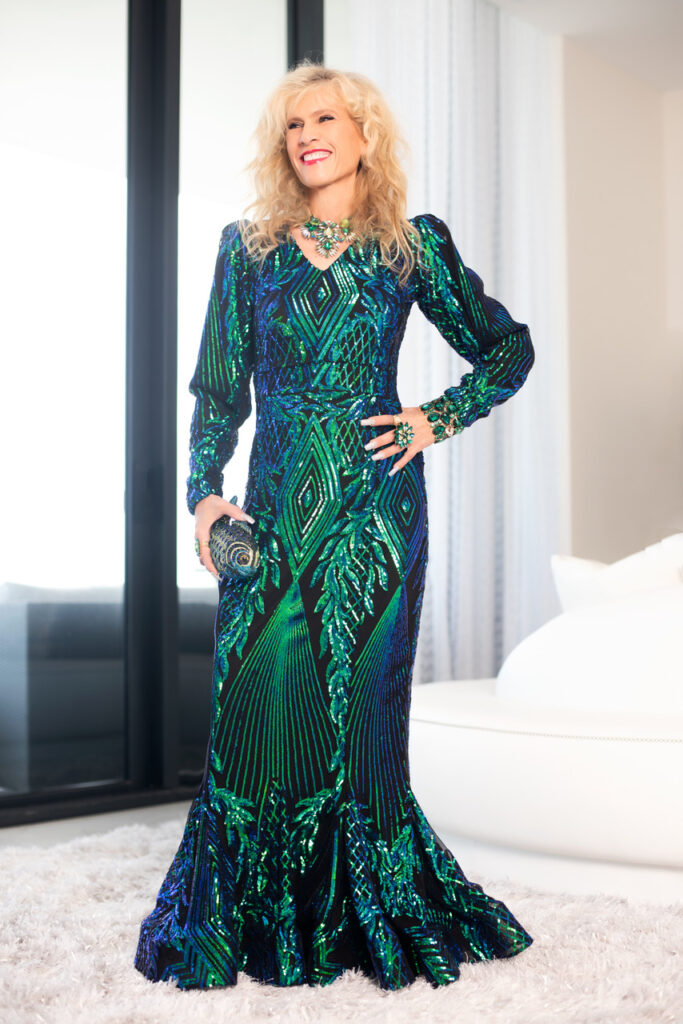 Embrace your favorite color this holiday.  Is your favorite color red or gold? Either way, wear it if it makes you happy.  This holiday, Donna Leah says that she will be wearing sapphire for its healing properties.  She tells us that "the sapphire stone and the color is thought to bring peace and contentment to one's soul.  This became very meaningful for me as so many people are going through challenging times over the past few months.  Sapphire also is known for its energy and for helping with mental focus and order.  It felt very timely to embrace this bold color."
Still need inspiration? Look to cities with your personal sense of style for inspiration. Being based in Los Angeles is considered a blessing by Pisano, since he is able to produce the same level of stylish garments that have been worn throughout the world by celebrities and high society.  "I am continually inspired to design and create dresses, suits, and gowns that communicates sophistication and power.  I think that people in their everyday lives can also be inspired by what is naturally around them," says Pisano. "Most importantly, we need to be thankful for those that we love and for special occasions that give us joy."
Related Posts