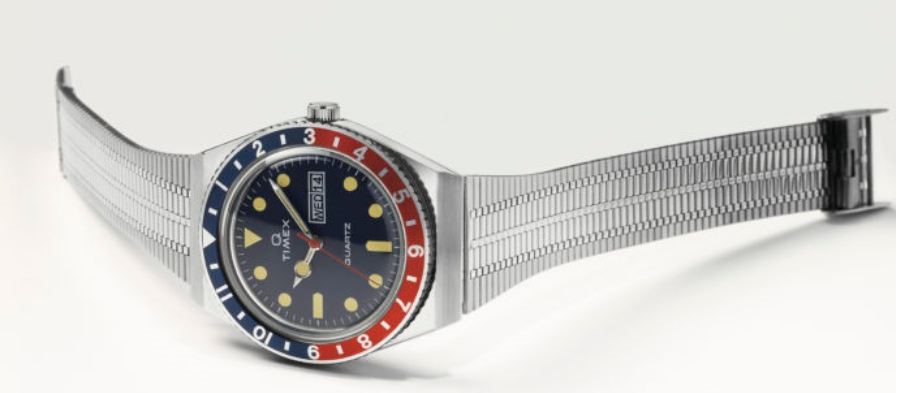 In the past few years, the world of watches has become obsessed with three things: blue and red coloured bezels, stainless steel and sport watches. The blue and red steel bezel is present in almost all the legacy brands in the watch industry. Old and new watches, new collections released and the timeless classics cased in stainless steel have been highly in demand unlike any other variant. And sport watches have been dominating the wrist watch segment for the past couple of years. Not only are they in demand but are thriving!
It is no surprise then that the reintroduction of the Q Timex watch has got watch enthusiasts eager to get their hands on this affordable, diver-inspired watch. Timex is bringing back the model in three new colours making the already coveted styles even more admirable and desirable.
The American brand first came out with the Q model back in the 70's. It was the first Timex watch to introduce the quartz technology to a generation of watch wearers. And as the rest is history, the watch became an instant classic overnight. The re-edition of a watch that represented a major pivot for the watch brand is sure to create waves in the industry. The Q Timex is an exact replication of the original model, down to the screw-in battery hatch.
Introduced in 1979, the watch not only followed the quartz trend but also some of the major design elements that defined the 70's style. These included the stainless steel bracelet, a GMT Master inspired bezel (which rotates in both the direction in the Q) and a squared-off bevelled case. The watches in the Q collection sport a 'Q' at the 12o'clock position, displaying that Timex had officially moved into the quartz era.
The point of reintroducing the watch is to bring the current generation of watch enthusiast to know what Timex used to be. To put it simply, it is to educate the customers about Timex heritage and journey over the years into becoming one of the most coveted brands in the watch industry. They have garnered a reputation of being one of the top choices when planning to buy branded watches online.
The art of watchmaking has evolved over the years, with advancement in technology. The new steel bracelet fits nicely as compared to the old flimsy feeling of the old one. The battery hatch is a new addition as well. It also gives you access to changing your own watch battery by unscrewing the back cover. This is something the new generation is unfamiliar with and can give a try with the Q Timex.
The world renowned watch brand has partnered with the e-commerce giant Amazon India and the Timex Q Reissue is exclusively available on the platform. Amazon is famous platform for those interested to buy luxury watches online in India. You can check out the models on their website, or simply click on the link below: https://shop.timexindia.com/q-timex-reissue-38mm-stainless-steel-bracelet-watch.html
Related Posts