The Fascinating History behind Rose gold 
Rose gold is a relatively new colour among existing precious metals, having appeared as recently as the 19th century in Imperial Russia thereby resulting in rose gold commonly being thought of as Russian Gold.
Rose gold is a mixture of alloys which is created by the blending of  metal yellow gold with a copper alloy. Depending on the ratio of yellow gold to copper alloy, rose gold will look anywhere from a light shade of pink to a darker tone of red.
This blush hued gold was invented by Karl Gustavovich Fabergé, who is credited with being a great goldsmith and court jeweler in Russia's Imperial History. His chief accomplishment were his famous Imperial Easter eggs – masterpieces crafted for the Russian imperial family, modernly known as Fabergé eggs.
Cartier iconic designs in Rose gold
The 1920s decade is regarded as an era of change which fueled a drive for exclusivity, glamour and innovation in art, fashion and style.
To follow suit, the French jewellery maker Cartier started incorporating the then unconventional metal into its luxurious and iconic designs, featuring and promoting rose gold pieces across the globe.
Cartier's legendary "Trinity ring" was released in 1924, and it reflected this new movement in the world of fashion.
Cartier reintroduced the rose gold once more into its creation, the Love Bangle Bracelet, an iconic design which originated in 1969 and which earned the status of being the most popular and timeless Cartier creation even until today.
Rose gold is still popular and rising as a trend today 
From the viewpoint of popular culture, rose gold grew to become the favourite precious metal of choice in September 2015 after Apple released the iPhone 6S in rose gold, a color popularly known as "Millenial Pink". The popularity of this hue was unexpectedly huge, causing the Pantone Color Institute to declare that particular shade of pale pink as its 2016 "Color of the year" and thereafter naming it "Rose Quartz".
Rose shade or nude pink has been a bestseller in the fashion world ever since then and has continued growing in popularity, especially among celebrities and fashion and jewellery designers. It has therefore undoubtedly exerted influence on and impacted mainstream consumer choices.
The Rose gold Engagement Ring is a new Classic for the Modern Bride 
Evidently, the gorgeous and elegant rose gold resonates with many brides-t0-be precisely because it naturally compliments nearly every skin tone and gives off the appearance of a warm and soft glow.
We can say with confidence that Rose Gold has become a trendy alternative to yellow and white gold in Bridal jewellery as of late, owing to its hidden romantic feel and its delicately pinkish feminine hue which amazingly compliments a diamond's brilliance.
As a result, this subtle soft tone attracts more and more modern brides and couples to buy engagement rings and wedding rings made in rose gold.
Discover unique custom designed Rose gold Engagement Rings on linara.ca
We at linara.ca specialize in Bridal jewellery and try to stay on top of the latest and emerging design trends in Wedding jewellery for all occasions.
See below for 3 recently made and totally different custom designed Engagement rings in rose gold. We think you will love them.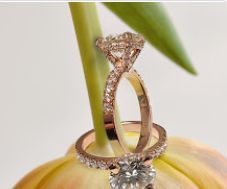 Custom designed Solitaire Round Diamond Engagement Ring in delicate and amazingly soft 18K Rose gold to enhance the diamond colour and appearance.
This Classic Engagement Setting features 1.7 round brilliant cut diamond on dazzling band accented with melee diamonds in micropave and with an embellished gallery in four claw.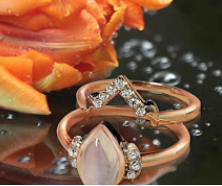 Custom crafted Bridal Set with Ring settings in rich warm 14k Rose gold with a soft glow to contrast the diamond brilliance, fire and scintillation.
The Wedding Set consists of Art Deco inspired Bow Tie Style Double Heart Diamond Engagement Ring set with custom cut perfectly matched pair of two Heart-Shaped diamonds and Matching Wedding Ring pave set with 25 round brilliant cut diamonds and personalized with laser engraving.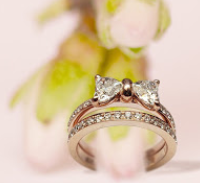 Custom made Bridal Set featuring Moonstone Engagement Ring set with Rainbow Moonstone, accents in Charles & Colvard's Forever One™ Moissanite and Matching Wedding Ring in 14K Rose gold.
This Non-traditional Wedding Rings Set was designed for Unconventional couple seeking a unique diamond alternative style.
There you have it – our Three top Rose gold Engagement Rings designed with love and care.
Related Posts